With a wheelbase extended by 180 millimeters, compared to the long-wheelbase S-Class version, with a two-tone paint scheme, Executive Seats and Chauffeur package as standard, the new Mercedes-Maybach S-Class will be available before the end of this year.
Launched in 2015, the former generation Mercedes-Maybach has found 60,000 customers worldwide. For the past years, every seventh S-Class sold was a Maybach. Every month, 600 units steered to China and the average increased to 700 last year.
According to a market survey, Mercedes found that, in 2019, there were 52 million people in the world who would afford to invest more than $ 250,000 a year. According to the financial prognosis, their number will increase to 95 million in 2030. Therefore Mercedes estimates that the demand for Maybach models will increase.
A whole chapter of the press kit explains the two-tone paint that is available as an option. The car initially gets the color of the lower part. Following this procedure, the car goes to the custom paint shop. Once there, the entire bodyshell is ground to a matt finish by hand. All the surfaces that will later bear the lower color are masked off. The exposed parts of the body are then completely painted by hand. There are 10 color combinations available for the lower. The upper part of the body and the whole painting process takes up to a week.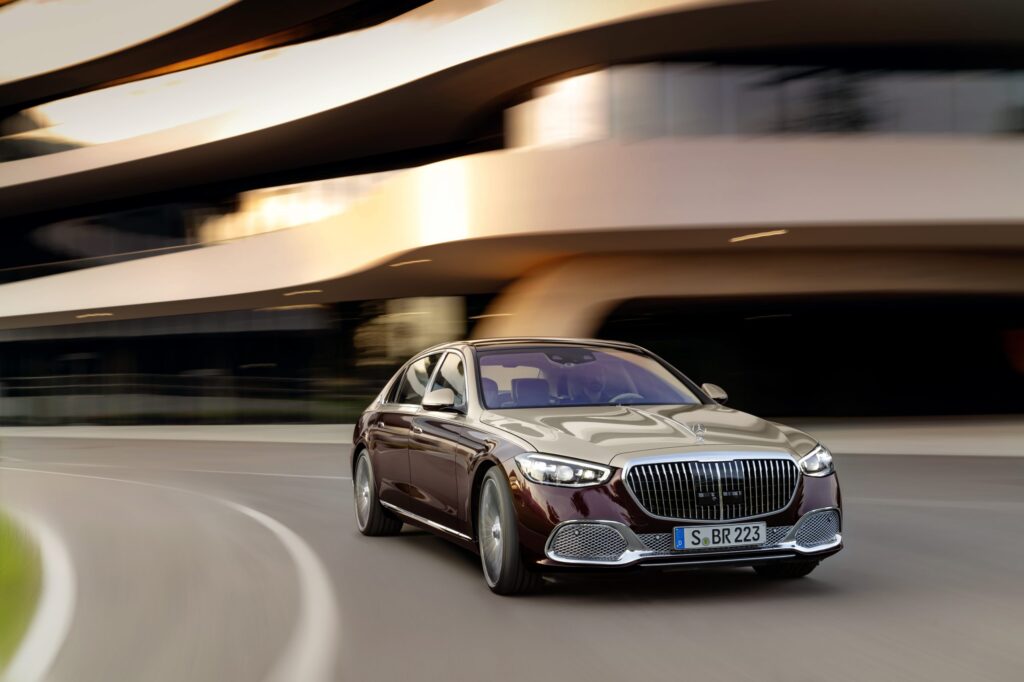 Because Mercedes-Maybach is primarily designed for the wealthy passengers who take their seats in the rear, they are the ones getting the special attention.
The new Mercedes-Maybach S-Class, more room for luxury and comfort
Thus, Executive Seats in the rear and Chauffeur package are standard. Furthermore, the kneeroom between 318 and 326 mm is larger than in the S-Class with long wheelbase (197-218 mm). The rear doors are wider for better access and can be optionally equipped with electric operation. Thus the rear occupants can close and open them with minimum effort.
Other innovations are the automatic seat belt extender, an idea carried over from the front seats of the coupe and convertible. Calf massage is available as part of the Seating Comfort Rear package. Rear passengers also benefit from adaptive rear lighting. They can thus adjust the brightness, size and position of the light spot. The optional refrigerated compartment in the rear armrest puts cooled drinks and food within easy each of passengers in the rear. The temperature is set using the illuminated control panel. The refrigerated compartment has a capacity of ten liters and is removable.
Read more at MercedesBlog
Photo credit: MercedesBlog